Ben Fatto 95 @ Paya Lebar Crescent
Handmade pasta sealed the deal for a night out at BenFatto's and off we were whisked into his patio for a very cosy dinner. I love dining in patios, the greenery and the cooling breeze sure set the night for some good times.
Sottaceti
Homemade pickles

Sushi del Chianti
Skirt of beef, hand chopped and served raw. Tonnato sauce (anchovies, tuna and aioli) and balsamic cream.
This is a must at Ben Fatto's, the effort that went behind this delicate dish made it such a winner all over the table. Very tender and with the right combination of seasoning, we were all lapping our crackers dry.


Tortelli
Pasta sheets shaped by mattarello (rolling pin), filled with garlic ricotta and closed by hand. Coated with tomato sauce and finished with Parmegiano Reggiano.
Three bites of really smooth pasta parcels, I love the burst of flavour as I sunk my teeth into them. Absolutely delicious - and the big question remains, why not more! The feeling of wanting more and it's the end of the dish is crushing actually. It definitely did not help the next course did take a while to arrive.
Cresc' Tajat
Short pasta from Le Marche made with polenta and wheat flour, cut using a bicicletta and folded by hand. Cooked with clams and legumes. Finished with a pancetta gremolata and garlic oil.
These exquisitely shaped pasta are done so to trap gravy and with every bite there is both pasta and gravy. Thoughtful gesture and I did enjoy the al dente bite and flavourful seafood broth.
Cappellacci
Pork filled ravioli folded to resemble a nun's habit and soaked in a cheese bath. Chef Yum Hwa does brilliant handiwork with these pasta pieces and there is a case of OCD going on. While the portions did increase a wee bit with an extra morsel, this too left me wanting for more. Cheese albeit a heavy weight ended up really light here.
Tagliolini all' Uovo
Long egg pasta cut using a chitarra (traditional cutting utensil). Cooked with white fish and zucchini in a shellfish broth.
Of the four, this is my favourite. Once again still a light pasta with plenty of flavour without once feeling it is too much.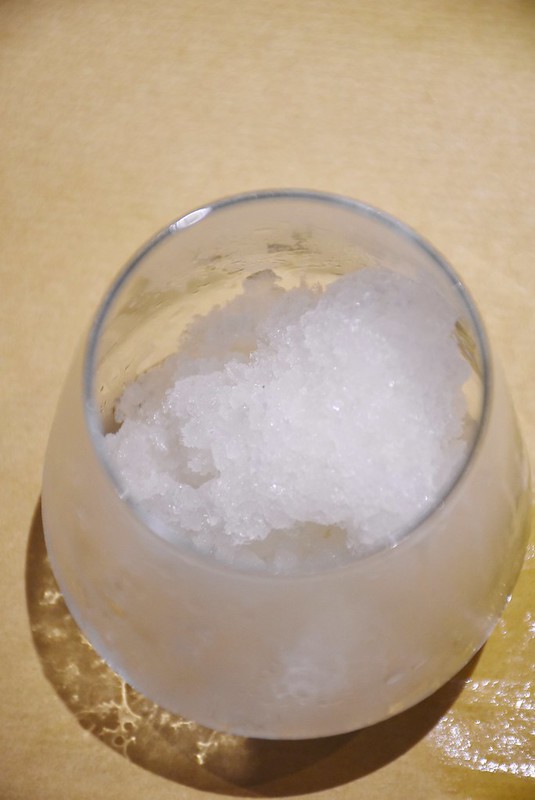 Granita al Limone
Torta della Nonna
A classic lemon and custard filling encased within a home made pastry crust. Topped with roasted nuts and powdered sugar. I love how this surprised me with the lemon in custard concept, more than just tangy sour custard.
The night ended after a good 3 hours of pasta education, getting hands on with making pasta and of course tucking into Chef Yum Hwa's creations. There is alot of thought that went into each course and I enjoyed myself except if I were to return, the pasta education portion will repeat - not sure if I am a fan of that itself. Once informative and refreshing, twice I am just not so sure. We even stole a glance at his self made stone oven! This used for his ala carte main courses.
Portions were on the smaller side but we did give our feedback and word has it that he has already changed his portions.