Bills @ Ginza, Tokyo
With most restaurants only opening at 11am, I had trouble finding a place for brunch before that timing. How thrilled was I when I realised Bills, an Australian restaurant that has been feeding diners with legendary meals since 1993, was opened at 830am!
Perched on the 12th floor of Okura House, there is a lovely view of the Ginza shopping belt. Bright morning rays greet us as we stepped into the glasshouse.
Love. Those. Marble. Tops. I can totally imagine myself at sundown sipping a cocktail in hand.
Private dining area.
I love how the restaurant overlooks Ginza but with sun rays this strong, I say stick with the main dining area.
Cookie monster alert.
And looks like cakes for breakfast is universally approved too.
Those plates! Anything would look good served on them.
Homemade Almond Milk (JPY 900)
This mildly sweet almond milk had a nutty aftertaste and was rather thin in consistency but still a healthy start to our indulgent brunch.
Ricotta Hotcakes, Fresh Banana and Honeycomb Butter (JPY 1,800)
Three ricotta hotcakes stacked high with bananas hidden in the stack and drizzled with butter. So. Freaking. Yummy.
I just had to rave about it this way. There's just something about these fluffy babies that tasted good even when it got soggy from sitting in the butter for a tad long.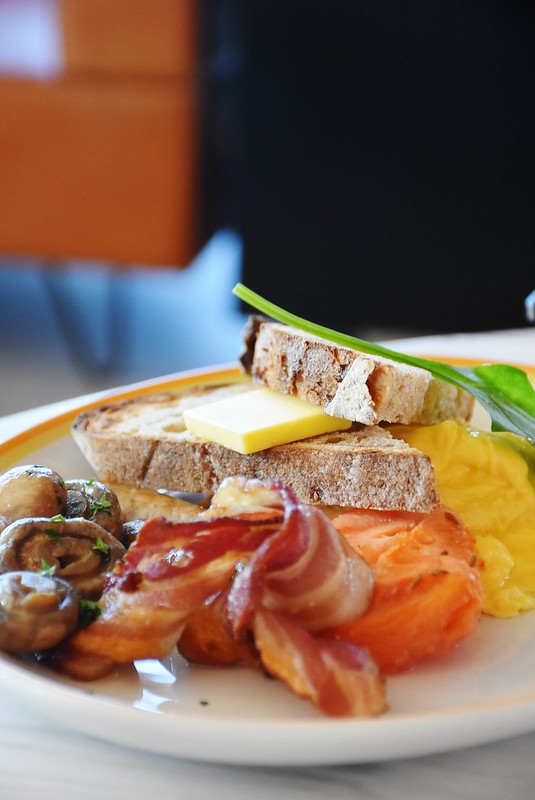 Full Aussie Breakfast (JPY 2,400)
Scrambled Organic Eggs, Toast, Bacon, Roast Tomato, Herbed Mushrooms, Pork and Fennel Sausage
Breakfast meant for champs, this had the full works and every single element worked. I hardly cave into creamy scrambled eggs but I did for this, inhaled every bit of it like the best tasting scramble ever. Mushrooms grilled in butter and those rashers of bacon pretty much made this breakfast so complete. Delicious down to the last crumb.
Maybe the holiday mood made my brunch taste so good but Bill's is a place worth a visit. Casual yet classy vibes with PS Cafe-ish similarities all over. The point isn't about where the inspiration was sought.
Ginza, oh ginza...I love mornings in Ginza. Other times of the day it just seems too claustrophobic.
Bill's
Okura House 12F,
2-6-12 Ginza, Chuo-ku