Nijyumaru @ Permas, Johore
A fellow foodie from JB recommended Nijyumaru for affordable Japanese food and hugely popular amongst the locals. Thankfully, I managed to make reservations and get us a table at 8pm. When we arrived, the queues were there and the restaurant was filled with diners.
Before the meal started, I was actually looking forward to freshly grated wasabi. Afterall, it is place frequented by locals and to that regard, not touristy.
Ikura Chawanmushi (RM 12)
Chawanmushi (RM 5)
Smooth and wobbly and comes with a side of fish roe too. Available on demand but be prepared to wait.
Hotate Sushi (RM 12, 2 pieces)
Bulbous fleshy things that always make me happy, I disliked the sushi rice used though.
Special Maki (RM 13)
I suppose they used freshly cooked rice here, pretty ordinary creative sushi with fried bits inside.
Olenso Bacon (RM 10)
Of all places to have a salad, we did and this was really decent with oriental touches.
Nasu Dengaku (RM 8)
Pathetically dry eggplant with miso paste, I have had tons better elsewhere.
Ebi Wasabi Mayo (RM 18)
Perhaps strange to have wasabi prawns at a Japanese restaurant and this tasted as it would from a zichar restaurant.
Garlic Fried Rice (RM 5)
I dunked in enough wasabi to render this a delicious plate of fried rice paradise.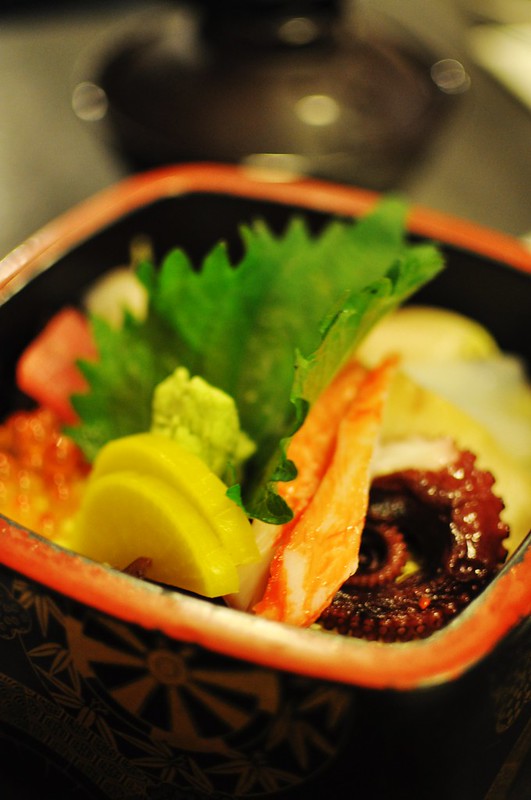 Chirashi Don (RM 26)
Chirashi don for RM 26, it had the day's freshest in a bowl. I thought it was a good deal with a reasonable amount of fish.
Red Wine Beef (RM 20)
I fault this for the frozen peas, carrots and corn used. Made the presentation lose points and the beef cubes were sliced a tad thin and it was on the sweet side.
Mentaiko Scallops (RM 10)
This was oral pleasure in one slurp.
Grilled Oysters and Cream (RM 13)
This was a letdown with the delicious cream topping and lukewarm oyster croquette.
Cod with Foie Gras (RM 38)
A thick chunk of uncteous, greasy, fatty and unforgivably sinful foie gras sat on top of my juicy cod. I did not really care too much about the moat of cream sauce around it but my my my, it had to be a heart patient's worstest nightmare alive and save for the mild fishyness of the foie gras, this was a literal heaven on earth, all in my mouth. Great for sharing otherwise, just load up on this sin and the visit and queues are already justified.
Pear Sorbet (RM 18)
Shaped like a pear and filled with vanilla ice, so we were duped into ordering this supposedly "Made in Australia" dessert.
Black Sesame Icecream (RM 8)
I had better mileage and satisfaction with this rich number, peppered with enough black sesame.
Hits and misses but one thing I completely cannot argue against is the affordability of dining in JB. Japanese cuisine included. For the same amount of money spent, I doubt I can get half the satisfaction in Singapore. Worth a return just for the hits.
Nijyumaru
Permas Jaya