Naossa @ Santorini
Fira is a part of Santorini that we spent a fair amount of time at and Naossa, having been mentioned in a number of food blogs seemed to be the place to be at to view the sunset and also enjoy homecooked food at pocket friendly prices.
I was not sure how big Fira is and how far we can venture so I did not bother with reservations.
Since it was too early for dinner at 6pm, we took the time to venture around the town area and figure our route to the Old Port for our cruise ride the very next day.
Spotting chinese words used in a menu overseas never fails to make me laugh.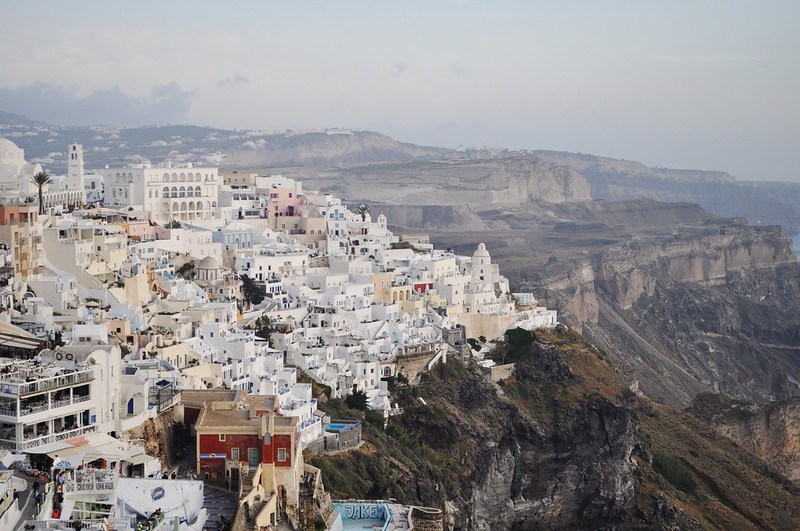 The view of Fira.
Until it was dark enough for dinner did we finally make our way to the restaurant.
Greek Salad (EUR 7.8)
Salad, always a good start and this came in such huge portions, we were literally stuffing our faces with greens.
Pita Bread with Yogurt Dip (EUR 5)
I love a dill infused yogurt dip and this came with a dash of olive oil and warm pita bread. Double score!
Fava Local (EUR 6.9)
I love fava, beans grated so smooth with a wee bit of grit for some texture. Lovely with bread and nothing beats mopping it all up with bread!
Saganaki Mydia (EUR 10.2)
This is apparently a greek favourite, cheese and tomatoes in a clay pot. As friendly as it looks, it was an overload of molten cheeses. I wish I have the appetite for this really and had it not been for the other appetisers, I would be able to polish this off.
We really could not resist another sea bass because it would be the freshest place for seafood on the trip. A simple grill with a dash of lemon, simplicity at its best.
Roast potatoes
Chocolate mousse on the house